About Us
In February 2011 Durham County Council (DCC) announced that Coxhoe Leisure Centre was going to close in October 2011 as part of the Councils cost cutting measures. The local community quickly formed an Action Group to look into the feasibility of taking over the running of the Centre and whether there was enough support and customers for the long term future.

During the summer of 2011 the Action Group developed into a more formal organisation called Future Leisure in Coxhoe (FLiC) and registered as a Company (No: 07776929) and a Charity (No: 1145037). After a tender process DCC agreed that FLiC had a strong enough Business Case to allow the operation of the Centre to be transferred under a long term lease agreement.

On 16 November 2011 the Centre was officially leased to FLiC to fulfil the Charities objectives as stated below:

"To further or benefit the inhabitants of Coxhoe and the surrounding areas, to advance education and to provide facilities in the interests of social welfare for recreation and leisure-time occupation with the objective of improving the conditions of life for the residents."

The Centre has now been renamed The Active Life Centre and is a more lively, vibrant and enjoyable place to visit with many more activities available.
Active Life Centre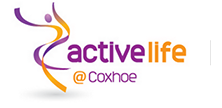 The Active Life Centre @Coxhoe is managed by local community group - Future Leisure in Coxhoe (FLiC). Our mission is to be a 'community hub' and to take a lead role in the development of new and improved sport, fitness, educational and social activities for the improvement of health and wellbeing of the community. Fully qualified friendly staff are here to support you and help you achieve your goals. We work closely with various other groups and local businesses to provide support in the Coxhoe and area community.
Visit the Active Life Website
Fundraise for Future Leisure In Coxhoe (Flic) when you shop online
Join 200,000 supporters already fundraising for charity. It's 100% free for you and the charity. Shop at over 4,200 participating retailers. We turn the commission into free funds for Future Leisure In Coxhoe (Flic).
Find out More and donate
1. Join
Join for free, it only takes a few minutes
2. Browse
We have over 4,200 participating retailers
3. Shop
Use our links to visit a retailer and shop as normal
4. Raise
We turn the retailer commission into a donation for charity
Thank you to our SUPPORTERS
FLiC would like to thank all of our supporters for their support in the past and in the future. They are, Coxhoe Parish Council, Cllr Stuart Dunn, Cllr Jan Blakey, Cllr Maura McKeon, LEADER, County durham community foundation, Sport England, Area action partnership - east durham rural corridor, Party forever & Seventeen cafe.
Thank you to our SPONSORS
We strive to involve the community in our activities so if you would like to volunteer in any capacity eg. Cleaning, serving refreshments at events, grass cutting etc or you can offer a professional service eg building maintenance please do not hesitate to contact Michael Lavelle or Lindsey Gibson, the Centre Manager.
Altogether Greener
Battle Oats
Breedon
Cathedral Cabs
Cinnamon Club
Coates Butchers
Digital Shark
H&M Joinery
JB Caravans
K2 Physio Care
Lifestyle Therapy
Longstaff Carpets
Party Forever
S Cars
Seventeen Cafe
Starr Dance Acadamy
Start Fitness
The Paving Factory
The Pressure Point